President
Sh. A. S. KIRAN KUMAR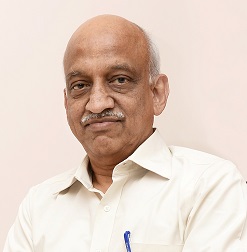 Shri A. S. Kiran Kumar is Vikram Sarabhai Professor at the Indian Space Research Organisation, Bangalore. He is Member of the Space Commission, Government of India and Member, Governing Council, Indian Institute of Science, Bangalore. During 2015-2018, he has served as Secretary, Department of Space and Chairman, Indian Space Research Organisation.

Shri Kiran Kumar was b
orn on October 22, 1952 in Hassan, Karnataka. He
obtained his Physics Honours Degree from National College, Bangalore in 1971, M.Sc. Physics (Electronics) from Bangalore University in 1973 and M.Tech. Degree
in Physical Engineering from Indian Institute of Science, Bangalore in 1975
.
He has steered the implementation of the applications oriented Indian Space Programme, which has facilitated rapid development of the country in many important spheres of earth observation, communication, navigation, meteorology and space science, as well as the development of indigenous launch vehicles and related technologies for providing assured access to space.

He has contributed to the design and development of more than 50 Electro-Optical Imaging Sensors flown on Space borne platforms starting from Bhaskara TV payload in 1979 to the payloads onboard the Mars Orbiter Mission in 2013.
He has played a crucial role in Chandrayaan-1 mission right from the conceptualisation stage and has made exemplary contributions to the success of Mars Orbiter Mission and Reusable Launch Vehicle -Technology Demonstrator (RLV-TD).

Shri Kiran Kumar has been the Chair of the Committee on Earth Observation Satellites (CEOS) in 2012. He has made valuable contributions to Coordination Group of Meteorological Satellites (CGMS), Expert Team on Satellite Systems – World Meteorological Organisation (ETSAT of WMO) and Indo-US Joint Working Group on Civil Space Cooperation.
Shri Kiran Kumar is President, Aeronautical Society of India and Fellow of Indian National Academy of Engineering, National Academy of Sciences India, Indian Society of Remote Sensing, Institution of Electronics & Telecommunications Engineers, Indian Society of Systems for Science & Engineering, Indian Meteorological Society, Indian Society of Geomatics, Gujarat Science Academy, Andhra Pradesh Akademi of Sciences and an elected member of International Academy of Astronautics.
He has been conferred with Honoris Causa and DSc by 18 Indian academic institutions.
He has co-authored 85 publications in various national/international scientific journals/conferences/symposiums.
In recognition of his contributions, he was conferred Padma Shri award by the President of India in 2014. The Government of Karnataka honoured him with Rajyostava Award for the year 2015 for his contribution to space science & technology, `Sir M. Visvesvaraya Senior Scientist State Award' for the year 2013 and Lifetime Achievement Award from Karnataka Science and Technology Academy (KSTA) in 2016. He is recipient of IISc Distinguished Alumnus Award for the year 2015, Gujarat Ratna `Life for Innovation' Award conferred by Gujarat Innovation Society in 2014 and Lifetime Achievement Award by Andhra Pradesh Akademi of Sciences in 2016, Bharat Ratna Sir M. Visvesvaraya Centenary Award for Innovation in Technology conferred by University of Mysore in 2016, G.M. Modi Science Award by Gujar Mal Modi Science Foundation in 2016, 19th SIES Chandrasekarendra Saraswati National Eminence Award in 2016, H K Firodia Vijnan Ratna Award by H K Firodia Foundation in 2017 and Santokbaa Award instituted by SRKKF Surat in 2018.
Shri Kiran Kumar has been conferred with the prestigious 2018 International von Karman Wings Award instituted by the Aerospace Historical Society, in collaboration with the Graduate Aerospace Laboratories at the California Institute of Technology, on November 08, 2018 and the Chevalier de l'Ordre national de la Légion d'Honneur – the highest civilian honour by the Government of France on May 02, 2019.